Highlights from the Committee on Global Surgery (COGS)
Thank you to all of the IAOMS committee members participating in Outreach Programs. We are excited to share highlights of where we've been across the globe.
---
Mercy Ships
Dr. Leo Cheng
Dr. Leo Cheng, an Oral, Maxillofacial, Head and Neck Surgeon volunteers his time with Africa Mercy Ships where he performs life saving operations that transform the lives of those on the African continent. Dr. Leo Cheng sits down with GB News to discuss his work with mercy ships, the mission of the group, and how he assists in the training of local healthcare workers by providing educational opportunities that can utilized in local health clinics.
Watch the full interview here.
For more information visit www.mercyships.org.uk
Video provided by Dr. Leo Cheng.
---
Smile Bangaldesh
Dr. Shahid R. Aziz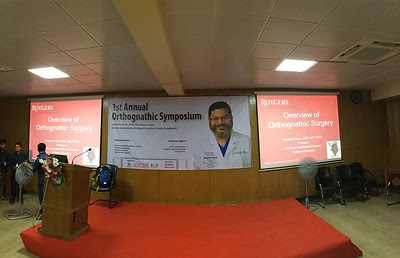 For the last 13 years, Dr. Shahid R. Aziz and a small team have traveled to rural areas of Bangladesh twice a year to provide free surgery to children and adults with cleft deformities through Smile Bangaledesh. To date, they have participated in 23 missions and 1500 surgeries.
Their latest initiative is developing Orthognathic Surgery. Smile Bangladesh hosted its first Orthognathic Symposium with cadaver surgery last year in Dhaka, Bangladesh. Smile Bangladesh will be hosting a second symposium in November 2019 with a live cleft orthognathic surgery.
To learn more about Smile Bangladesh, visit their website here.
---
Mercy Ships: The Africa Mercy
Dr. Leo Cheng
Leo Cheng, an Oral, Maxillofacial, Head and Neck Surgeon at the Royal London and Homerton University Hospitals, London, returned from Conakry, Guinea, West Africa earlier this year as he served on board the world's largest non-governmental hospital ship – the Africa Mercy - where he performed life-saving operations to some of the poorest people of Africa.
This was his 16th trip to West Africa where he offered his skills and time, along with other surgeons and nurses, to provide corrective and reconstructive surgery to people suffering from large tumours, cleft lips and war wounds.
Click here to read the full press release regarding his recent trip to Guinea, West Africa to join the Mercy Ships and to Rio, Brazil to present at the 24th International Conference on Oral and Maxillofacial Surgery (ICOMS).
Dr. Leo Cheng presented a TED-style talk to the general public in 'Imaging the Future of Medicine' at the Royal Albert Hall, London in 2014 to over 4,500 people on 'Offshore Medicine'.
For more information visit www.mercyships.org.uk